50 vital tricks and techniques for succeeding with your sewing projects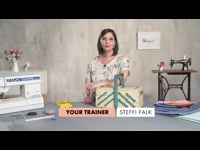 ---
Contains:
Techniques and tricks for better sewing
Professional secrets
Step-by-step explanations
---
Educational Success Guaranteed,
Or Your Money Back!
Learn from the best!
Courses tailored
to your schedule!
Description
50 tricks and techniques for any professional sewing project
How can I prevent my seams from becoming tangled at the start? What should I do when my fabric seems too thick for my machine to sew? What can I use to replace pins so as not to make holes in my fabric? Our trainer Steffi Falk gives you answers to all these questions, along with the professional tips and techniques needed to overcome the difficulties that frustrate all seamstresses on a daily basis. This course will give you a solid foundation for approaching sewing projects with supreme confidence!
Vital Techniques and Tips
In this course, Steffi Falk, a seamstress and tailor by profession, shows you the techniques to be applied when the fabric is no longer being fed by the machine, which happens when sewing oilcloth or muslin. She'll also show you how to keep the desired gap between your seams, how to separate a seam in the right way when you make a mistake and how to iron your work and its component parts. These are 50 techniques and tricks that, when rigorously applied, will gradually become part of your routine and will change your sewing life forever!
What you'll learn:
How to overcome thick areas when using a sewing machine
What to do when the machine badly drags the fabric
How to sew without pins
How to sew regular, straight, and well-spaced seams
How to make your markings
Everything you need to know about ironing
How to solve sewing errors
How to separate seams
And many other techniques and tricks...
What you should already know:
You must know how to use your sewing machine.
Instructor: Steffi Falk
Steffi Falk, the proud host of several Makerist courses, is an outstanding seamstress and tailor who has proven her talent, creativity and determination throughout her career. Both dynamic and hugely informative, Steffi is now stepping out in front of the camera after years of working behind it. Amongst other things, she created the decor and costumes for television, cinema and the theatre productions of Friedrichstadt-Palaste Berlin and "Theaterkunst". Needless to say, this extraordinary journey has enabled her to now pass on the many sewing tips and tricks that she has picked up along the way - turning you into an expert just like her! So check her courses out now!
Material
Highlights
Techniques and tricks for better sewing
Professional secrets
Step-by-step explanations
You Need
Sewing machine
Ironing board and iron
Leftover fabric to use
Thread
Sewing scissors
A quick release
Pins
Paper
Ratings
This is an excellent course for sewers looking to improve their basic knowledge. Some of it can feel a bit long winded at times, but that is dependent on what you already know.
I have followed the 50 essential sewing tips course. I found the steps very easy to follow and slow enough that you could see exactly what was happening. Steffi explains everything very clearly, however for anyone who has a little experience, you may find this a bit tedious at times. For a complete beginner its perfect. I found the tips for sewing thick seams and feeding issues particularly helpful as these are issues I have encountered. Also using apper with fine material will prove a helpful tip! The ironing also helped with sewing velvet and tricky shapes. With reference to sewing jersey, it would have been nice if there had been reference to stitch recommended for jersey and stretch fabric. Also some reference to overlocking fabric seems for those of us who dont have an overlocker. I recently paid over £100 for a 8 week sewing course and can honestly say I've learnt more from this course. Very good value for money and I will be looking at further Makerist courses.
This course is brilliant for both beginners and those with much more sewing experience. It explains very clearly each stage of a technique and give very clear advice and instructions on equipment and how to get the best out of it. For instance, how to use the iron to manipulate the fabric and to get the shape and perfect finish. An example would be;which marking tools are suitable for certain fabrics and techniques. There are lots of tips and hacks- such as for sewing tricky fabrics- that are extremely useful for lots of projects to give that professional finish to any project, without getting flustered! I would highly recommend this course to anyone who sews , as we can all learn something new, no matter how long you have been sewing. I know I've picked up lots of tips and tricks that I hadn't even thought of. Thank you for a fantastic course!
What others have made
This course has just started and the participants are still working on their creations.
For thousands more great pieces of work from the Makerist community, check out our (Showcase)(http://www.makerist.com/works)