In this advanced course, your trainer shows you how to become a true sewing expert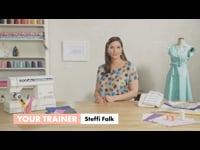 ---
Contains:
All the important techniques - detailed step by step explanations and professional tips that will change your sewing life forever!
---
Educational Success Guaranteed,
Or Your Money Back!
Learn from the best!
Courses tailored
to your schedule!
Description
BECOME ONE WITH YOUR SEWING MACHINE
You've probably already sewn a project or two, wore it proudly or maybe you made someone a handmade gift and now you want more! With this course, you'll be able to expand your skills and learn how to overcome difficult challenges. Your coach Steffi Falk will walk you through, step-by-step, and help you better understand your sewing machine.
DISCOVER NEW TECHNIQUES THAT WILL INCREASE YOUR SEWING EXPERTISE
This online course will teach you several techniques and tricks that will help you create high-quality sewing projects. You'll also increase your sewing know-how with additional foundations that are beneficial when creating more detailed and well-fitted garments and accessories. Sign up now and turn your made-with-love project into a "wow, how professional!" project.
WHAT YOU'LL LEARN
how to sew several different seams
how to gather fabric with your sewing machine
how to sew and finish a curve nicely
how to apply a lining or interlining to add support to your project
how to strengthen your piece with a facing and how to properly enclose your raw edges
how to sew darts
and how to sew hems
WHAT YOU SHOULD ALREADY KNOW
You should already know how to use your sewing machine. The course is suitable for beginners and more advanced self-taught seamstresses who would like to optimise their technique, whilst gaining more efficiency and skill.
Instructor: Steffi Falk
Steffi Falk, the proud host of several Makerist courses, is an outstanding seamstress and tailor who has proven her talent, creativity and determination throughout her career. Both dynamic and hugely informative, Steffi is now stepping out in front of the camera after years of working behind it. Amongst other things, she created the decor and costumes for television, cinema and the theatre productions of Friedrichstadt-Palaste Berlin and "Theaterkunst". Needless to say, this extraordinary journey has enabled her to now pass on the many sewing tips and tricks that she has picked up along the way - turning you into an expert just like her! So check her courses out now!
Material
Highlights
All the important techniques - detailed step by step explanations and professional tips that will change your sewing life forever!
You Need
Your sewing machine
Sewing threads
Sewing needles
Pins
Sewing scissors
One meter tape
Chalk
Batting
Lining
... and of course, a project to sew.
Ratings
This was an excellent course relevant to the title and all levels of sewers. I was unable to view the final video due to 'privacy settings'! Video 13- I felt this was too long at 1 hour, though there is a natural break at the 38 minute mark. I would definitely recommend this course for sewers wanting to improve their techniques or to initially learn about these techniques.
Jill Emerson-Smith
25.10.2017
Thank you for the opportunity to review your on-line sewing course. The Course is designed for students with some knowledge of sewing and basic garment construction knowledge. The Course offered very clear, concise and detailed instructions for the student. The techniques are very good and easy to implement. The tips which are displayed across the screen are easy to read and are useful. Episode 11 on linings and Interfacings was excellent and gave examples of the many types of products available. Episode 12 on Bias binding was one of the best I have ever seen.
Delighted to let you know that I have finished watching the sewing course "Become a sewing expert" First of all, The lady doing the voiceover was exceptional, She gives the instructions in a very pleasant, clear, calm and relaxed manner. The lady doing the demonstrating was very concise and went into the details with such a lovely manner. The camera work was also exceptional with close ups of every detail. There is 15 segments and each one is beautifully explained. At the start, you are given a short overview of what to expect during the course which makes you excited to get started to watch. A list of the things you will need to get started sewing the things which will be covered in the course is also given at the start. Each part is an ideal length of time. There is lots of tips and advice along the way with every stage explained and demonstrated in great detail in a very reassuring manner. I thought of myself as being quite an experienced seamstress but even I found this course to be a valuable source of information and techniques which were new to me. I thoroughly enjoyed it and would not hesitate to recommend it to a friend. My marks out of 5, would be 5.
 The course is well laid out. Very informative for new sewers and also seasoned sewers like myself. Each episode is filmed so you can veiw what the demonstrater has done. Able to rewind and veiw as you progress through the course, which is good.  The course is well laid out. Very informative for new sewers and also seasoned sewers like myself.
This course is suitable for both beginners and some of us with some knowledge. French seams I found useful. I knew how to do them but Steffi gives detailed instruction. The flat felled seams I have not ever done before so I found this particularly useful. It was shown in great detail and was very easy to follow. I've always struggled with gathering, doing it by hand but Steffi shows a great way with using the machine as well as adding elastic. There are many, many skills is this course you will need for dressmaking that are covered so well. The beauty is if you aren't sure you can just pause and rewind! Steffi has such beautiful well manicured nails too!
What others have made
This course has just started and the participants are still working on their creations.
For thousands more great pieces of work from the Makerist community, check out our (Showcase)(http://www.makerist.com/works)